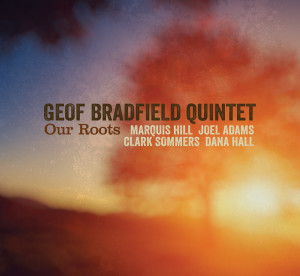 Click cover to listen and buy
BY BRIAN ZIMMERMAN 
Geof Bradfield Quintet, 
Our Roots (Origin)
The idea for saxophonist Geof Bradfield's intrepid new album Our Roots sprang from a concert series in Chicago called the Fulton Street Jazz Record Art Collective, in which musicians perform a classic jazz album in its entirety. Since its inception, visiting artists have covered works by all the usual suspects—John Coltrane, Thelonious Monk, Max Roach—but when it was Bradfield's turn, the Houston-born saxophonist delved deeper into jazz history. His album: These Are My Roots, Clifford Jordan's 1965 tribute to folk-blues hero Huddie "Lead Belly" Ledbetter. When Bradfield first heard this recording on cassette in the late 1990s, he was so smitten by it that he wore the tape out. It's easy to understand why. Jordan's album is a beautiful marriage of past and present; it effortlessly channels the raw passion of Lead Belly's folksy vocals while infusing the material with a modern hard-bop sensibility. Bradfield's record accomplishes a similar feat, though with a distinctly 21st-century twist. The album consists of four of the Lead Belly songs that Jordan originally recorded—"Take This Hammer" and "Dick's Holler" are exhilarating—as well as a handful of traditional Southern folk songs and two Blind Willie Johnson covers. Aside from a few odd-metered tunes and the occasional altered chord, Bradfield purposefully avoids the "highbrow" trappings of contemporary jazz, focusing instead on simple melodies played warmly and directly. Accompanying Bradfield on this project is the deeply empathetic unit of Marquis Hill on trumpet, Joel Adams on trombone, Clark Sommers on bass and Dana Hall on drums—a dream team of Chicago-reared jazz players. Each upholds a profound commitment to melody and groove, making this album less about the soloists and more about the spirit of the music that inspired it. By saluting Jordan and Lead Belly, Bradfield's album shines a light on two important—if unheralded—artists in American music. It also raises the stature of another: Bradfield himself.